New puppies!!!
Lovely litter of nine, born May 16, 2013, 4 females (1 tri, 3 sable) and 5 males (2 tris, 3 sables)
A few of these lovely puppies are still available!
See photos here:
Litter of five, born May 19, 2013, 4 females (2 smooth sable, 1 smooth white with sable, one rough white with sable), 1 male (tricolor rough)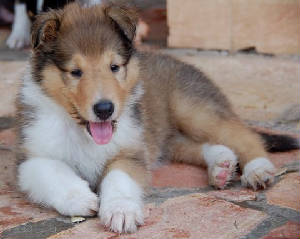 Born June 18, 2010 - Eight lovely puppies, six roughs (4 sable females, 2 sable males) and two smooths (1 tri female, 1 sable male).
See some photos of these very promising little ones
here
.
Eight beautiful puppies, three smooth males, three smooth females, and two rough females. See some photos of them
here.
Born Dec. 12, 2008 - One gorgeous rough sable female - details -

Chance
Smooth puppies, born 14/12/08
This is a repeat breeding on a highly successful litter two years ago that produced both show winners and working service dogs.
These puppies have all been placed. The lovely blue female has started her training as a service dog for an autistic boy, and the tri dog will go to Norway in June 2009.
July 31, 2008 - 5 beautiful pupppies, 2 blue males, 2 tricolor females, 1 blue female.
"Tia" has produced some lovely puppies in the past, and has two champions to her credit. This is "Chip" s first litter, and I am thrilled at the results.
I am also happy to say that three of the puppies are normal eyed, and four of them are MDR1+/-
See photos of the puppies
here
.
New litters - May 2006
May 15, 2006 -
Nine puppies - 2 tricolor smooth females, 1 blue smooth female, 1 blue rough female, 4 blue smooth males, 1 blue rough male.
May 22, 2006 -
Seven puppies - 2 sable females, 1 tricolor female, 1 sable male, 3 tricolor males
May 30, 2006 -
Seven puppies - 1 blue female, 5 tricolor females, 1 tricolor male
Watch for more details as these puppies grow!
March 12, 2006 -
3 sable females
We are very proud that one of these puppies, Tawny of Netiv HaAyit, has been accepted for training as an Alzehimer's Aid Dog.
Her sister, Tara of Netiv HaAyit, is a companion to an autistic child.
The third sister, Tiffany of Netiv HaAyit, will be going to Greece where she will have a career as a show dog and loved companion.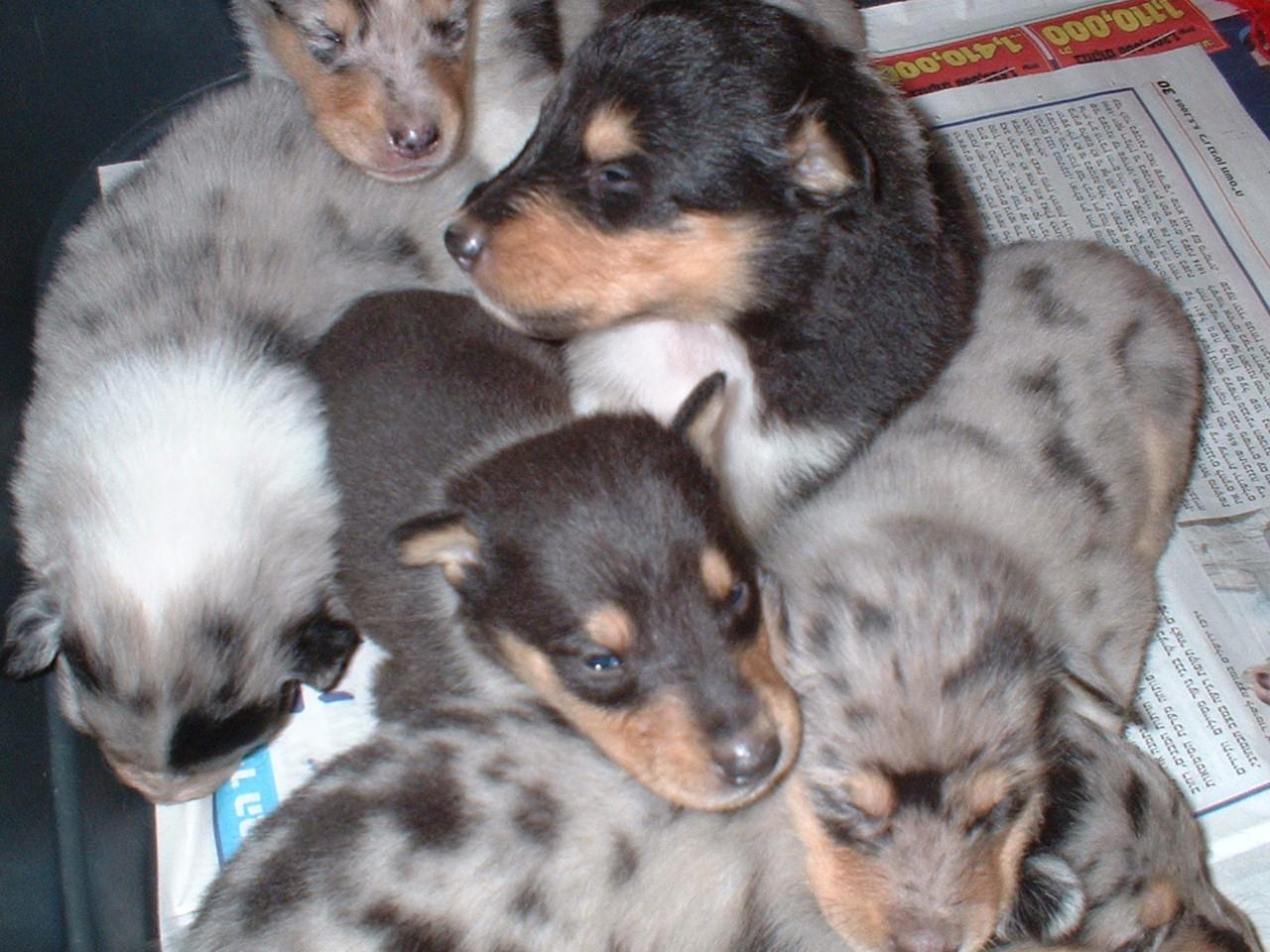 Eight puppies! -
1smooth tri female
1 smooth blue female
1 blue rough male
2 blue smooth males
2 tri rough males
1 tri rough male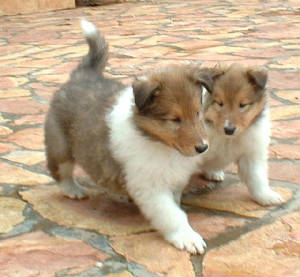 Six weeks old
One sable male and one sable female
And
Mandy
is home from the US, and nursing one tricolor male puppy born February 9, 2005 - first litter of the New Year.
Sire is AKC Ch. King's Valley Frequent Flyer, sire of our stunning
Spirit.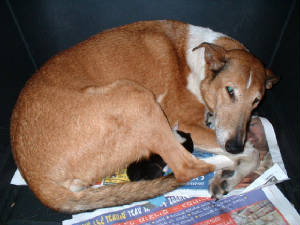 Mandy and son
Born September 3, 2004:
I blue male, 3 tri females
Two of these beautiful puppies have already started their show career, with great success - take a look at their pages:
New Puppies!!!
Seven little tris, five girls and two boys, born May 6, 2004
Mother is our top winning bitch, Tia
This litter doubles up on our Brazilian line with an addition of other top bloodlines. We expect great things of them...
New puppies!!!!
Born February 20, 2003
Two sable females, two tricolor females, two sable males, one tricolor male
Meet DoJo! The boy who we kept - at three and a half months -