Domino has now completed her Israel Champion title!
Spitz club show, June 30, 2007 - Judge Dr. Rita Trainen - CAC, BOB
Maayan Harod International Show, September 8, 2007 - Judge Dr. Tamas Jakkal, Hungary - CAC, CACIB, BOS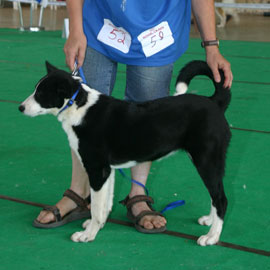 At four months
Domino is one of those dogs that captures the heart of everyone who meets her. Many have offered to buy her but she is staying here at Shaar Hagai. We expect her to have a great career in the ring, but even more so, her fantastic temperament is winning many new friends for the breed.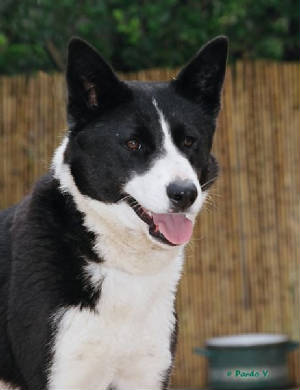 At one year of age
Domino has done extremely well so far in the show ring, with wins including Best Puppy in Show, and Best Junior in Show. She is one of those rare Canaans that really loves the adventure of dog shows, and we expect a great career for her as an adult - watch for her in the coming year!
Pedigree for Domino
Canaan Dog
ISBR 95404
Born: Feb. 23, 2004
Sire
Pereh me Nachal Yealim
Sire
Ben Bedoui me Nacahl Yealim
Sire

Dam

Dam
Bat Bedoui me Nachal Yealim
Sire

Dam

Dam
Mocah Givat Har Adar
Sire
Multi Ch. Barak me Shaar Hagai
Sire
Isr.Ch. Bazak me Shaar Hagai
Dam
Int.Isr.Ch.WW Bat me Shaar Hagai
Dam
Menta me Shaar Hagai
Sire
Isr.Ch. Shavit me Shaar Hagai
Dam
Isr.Ch. Toffee me Shaar Hagai